Time to get out the planner and mark a new date on the calendar. We now know our next monthly Pokémon GO event. The August 2022 Community Day 2022 will be focused on Galarian Zigzagoon, the tiny raccoon Pokémon, and will take place on Saturday, August 13 between 11:00 am and 2:00 pm, always local time. Let's go over its featured attack, special research and all the event's bonuses:
August Community Day Bonus 2022
Pokémon GO Community Day bonuses for August 2022 are as usual:
3× Catch Stardust.
2× Candy for catching Pokémon.
Incense activated during the event will last for three hours.
Lure Modules activated during the event will last for three hours.
Take a few snapshots during Community Day for a surprise!
2× chance for Trainers level 31 and up to receive XL Candy from catching Pokemon.
Trades made during the event and up to five hours afterward will require 50% less Stardust.
One additional Special Trade can be made for a maximum of three for the day.
There is also a new bonus for groups that will make a Galarian Linoone appear if we collaborate with other trainers in several captures using a single lure module.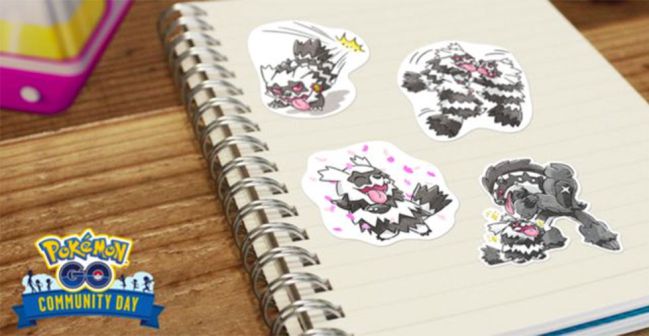 Community Day August 2022: Galarian Zigzagoon
All Zigzagoon we catch during the Community Day (or up to five hours later) can evolve to Galarian Linoone and then to Galarian Obstagoon, at which time they will learn the Charged Attack Obstruct. With it, we will do 15 damage in trainer fights (also increasing our defense and reducing the defense of the opponent) and a little more, 20 damage, in gyms and raids.
While the event lasts (remember, from 11:00 am to 2:00 pm), we will not only find Zigzagoon more frequently, but we will also be able to access the special research "Field Notes: Galarian Zigzagoon." The research will cost $1 and we can buy tickets for ourselves or for our friends.
As for the raids, if we have purchased a raid or premium battle pass, when the event ends we will have three hours to participate in the four-star raids (from 2:00 pm to 5:00 pm). In these raids, Linoone de Galar will appear and, if we manage to capture it, Galarian Zigzagoon will appear for 30 minutes and within a radius of 300 meters around the gym where we held the battles.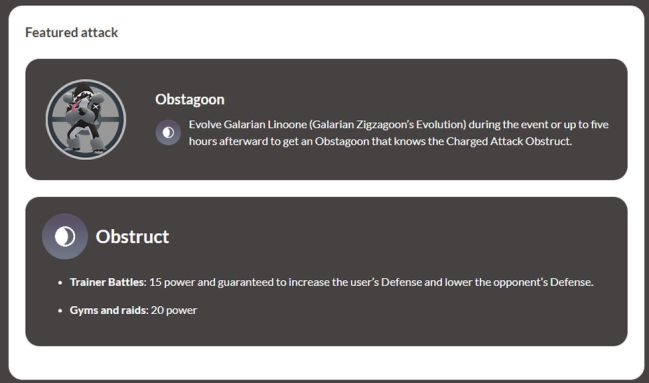 Temporary research of Galarian Zigzagoon
The August 2022 Community Day is also accompanied by a temporary investigation for everyone that will take place on August 13 from 11:00 am to 7:00 pm. To complete it we will have to capture 100 Zigzagoon and, as we do so, we will unlock the following rewards:
Obstagoon Hat
Obstagoon Glasses
Obstagoon Gloves
Obstagoon Pose
(These items will also be available for purchase in the in-game shop after the event.)
Source | Pokémon GO Live